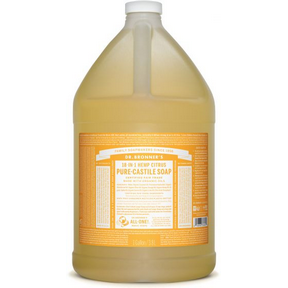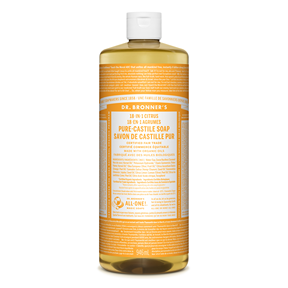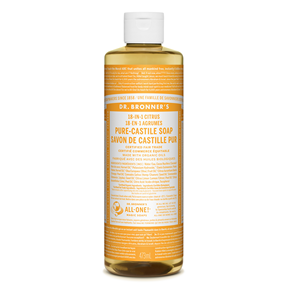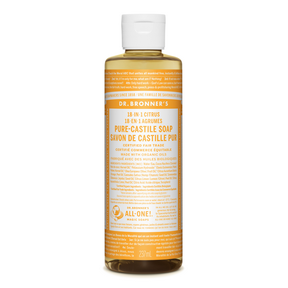 Dr. Bronners Castile Soap
Dr. Bronner's 18-in-1 Pure-Castile Soaps are multi-surface all-purpose cleaners good for just about any task!
Personal Care: Wash face, body, hair, hands!
Home Cleaning: Clean toilets, bathtubs, countertops, dishes—great for laundry, mopping, pets
all with the added benefits of aromatherapy!
This liquid soap is concentrated, versatile, and effective. Made with organic and certified fair trade ingredients. Most importantly is is made without synthetic preservatives, detergents or foaming agents—none!  
Organic hemp seed oil is now sourced in the U.S.
Scented with essential oils
Packaged in a 100% post-consumer recycled bottle.
readily biodegradable under the stringent testing conditions utilized pursuant to OECD Guideline 310.  
For detailed product uses, refer to Liquid Soaps Dilutions Cheat Sheet.
Refill options: require you to bring your own container (in-store refills) or purchase a container (on-line refills). Unfortunately due to the high cost of shipping heavy items, this product is not able for shipped orders.
Available Scents:
Unscented (baby)
Citrus
Eucalyptus
Lavender
Peppermint
Rose
Ingredients:
Water, Organic Coconut Oil*, Potassium Hydroxide**, Organic Palm Kernel Oil*, Organic Olive Oil*, Organic Hemp Seed Oil, Organic Jojoba Oil, Citric Acid, Tocopherol
*CERTIFIED FAIR TRADE INGREDIENTS
**None remains after saponifying oils into soap & glycerin.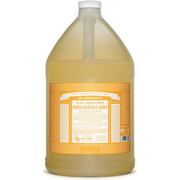 Dr. Bronners Castile Soap